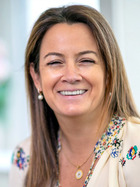 Lucia Fanjul, MSW, LMSW
Oncology Social Worker - Bilingual
Lucia is a bilingual Spanish social worker at CancerCare, providing counseling to people coping with cancer and people who have experienced the loss of a loved one.
Additional training:
Finishing a certificate in grief counseling with the American Institute of Health Care Professionals
Lucia shares, "CancerCare is the only organization that provides extensive, free emotional support for the oncology community. Although each person's experience is different, certain emotions and reactions are common as people transition from diagnosis to treatment to survivorship. As an oncologist social worker at CancerCare, I feel prepared to guide and support our clients through those specific experiences.
I love being a social worker at CancerCare. There are days when all I do is listen and other days when I support someone through a particularly rough patch. Then there are those happy moments when people start to feel better, scans are clean and treatments are finished."