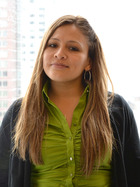 Cecilia Kuepper, MSW, LSW
Healing Hearts Program Coordinator
Cecilia is a bilingual Spanish oncology social worker and Healing Hearts Program Coordinator at CancerCare, providing counseling to people coping with cancer and people who have experienced the loss of a loved one.
Additional training:
Grief Training with David Kessler: "Finding Meaning: The Sixth Stage of Grief" (January 2020)
Presentations and publications:
Cecilia shares, "What inspires me is my clients' resiliency, willpower, and courage to fight a diagnosis that has changed their lives in so many ways. Experiencing this first hand has most certainly altered my perspective on life and has influenced how I deal with my personal day-to-day challenges. It has really opened my eyes and forced me to refocus my attention on what really matters. Witnessing this has taught me to not take everyday blessings for granted. I feel honored to be afforded the opportunity to support people in one of the most difficult times in their lives—if they are personally coping with a diagnosis, one of their loved ones has been diagnosed, or whether they are grieving the loss of a loved one to cancer.
CancerCare allows me to help alleviate some of the burden that patients, caregivers or the bereaved may be experiencing by providing emotional support and/or case management services. A cancer diagnosis changes lives—most apparently the patients', but also that of their family and friends."