Innovators in Breast Cancer Research, Treatment and Patient Support Honored at CancerCare's Annual Awards Dinner
NEW YORK, March 4, 2009--"I can FINALLY see the days might be filled with beauty and light. I arrive at the airport... and all I can say when the wheelchair arrives is, 'No thank you, not this time...'"
Reading from her personal diary, CancerCare client and breast cancer survivor Sammy Blassberg held rapt the more than 350 people attending CancerCare's annual Partnerships in Hope awards dinner, held on March 3 at Bridgewaters, in New York City's historic South Street Seaport.
The annual dinner honors organizations and individuals who have made a profound difference in the lives of people facing cancer. This year's event celebrated the tremendous strides made in breast cancer research, treatment, and patient and survivor support by individuals and organizations. Honorees included: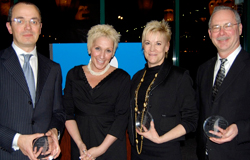 Hala Moddelmog, president and CEO of Susan G. Komen for the Cure; and industry leaders in breast cancer treatments, Genomic Health and Bristol-Myers Squibb.
"Our honorees exemplify the kinds of partnerships that have led to great improvements in treatments and quality care for women diagnosed with breast cancer," said Diane Blum, executive director of CancerCare. "In addition, the support each of these organizations has given CancerCare over the years enables us to continue providing professional counseling and education free of charge to women of all backgrounds who are facing breast cancer."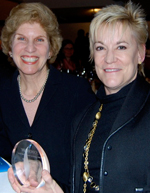 Moddelmog accepted CancerCare's Help and Hope award on behalf of Komen for the Cure, the world's largest grassroots network of breast cancer survivors and activists whose mission includes ensuring quality care for the more than 200,000 women (and men) who are diagnosed with breast cancer each year; and for supporting research toward a cure.
CancerCare and Susan G. Komen for the Cure have worked collaboratively to help women with breast cancer since 1987. Komen provides support for CancerCare's financial assistance program and since 2007, the two organizations have worked together to provide counseling directly to women with breast cancer.
Dr. Giovanni Caforio, senior vice president of oncology for Bristol-Myers Squibb, accepted the Partnership in Hope Award on behalf of his company, for its leadership in the field of oncology and pioneering new treatments that extend and enhance the lives of people with cancer.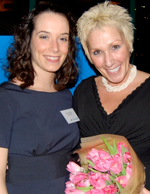 Dr. Steven Shak, Genomic Health's founder and chief medical officer, accepted CancerCare's Beacon Award, in recognition of Genomics' innovations in diagnostics for breast cancer.
Hosted by Carol Lin, veteran broadcast journalist and former CNN reporter who shared her own challenges, heartaches and triumphs as a caregiver to loved ones facing cancer, the event took on an even more intimate tone when Blassberg stepped up to the podium to deliver the evening's keynote address. In diary entries she shared with the attendees, Blassberg expressed her feelings about losing several family members to the disease and the hardships she experienced over the past year during her cancer treatment for triple negative breast cancer.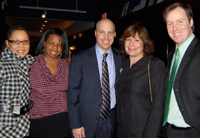 She ended with words of gratitude to CancerCare and the evening's honorees, who through their contributions to CancerCare directly benefit patients like her.
"I won't--I will never be--helpless again. Not if all of you continue creating partnerships in hope... and my family stays by my side."