CancerCare Honors Lung Cancer Pioneers at 25th Annual Awards Dinner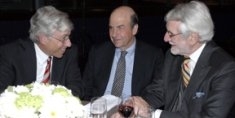 NEW YORK, February 29, 2008--Extending the quality of life and longevity of people with lung cancer was the focus of CancerCare's 25th Annual Human Services Awards dinner on Feb. 26.
More than 400 people braved the inclement weather to attend the Silver Anniversary awards dinner and fundraiser, held at Bridgewaters, in Manhattan's historic South Street Seaport. The evening raised a record $650,000 to support CancerCare's free counseling, education and financial assistance programs for people with cancer and their loved ones.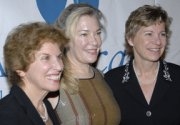 Deborah Morosini, MD, hosted the evening. Dr. Morosini is a principal pathologist with AstraZeneca and a nationally known advocate for lung cancer research. Her sister, the late Dana Reeve, died from lung cancer in 2006.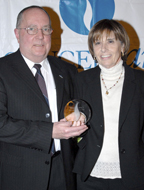 Noted author and humorist Calvin Trillin was also on hand to accept the Regulus Award (named for one of the brightest stars in the heavens) on behalf of his late wife, Alice Stewart Trillin, a lung cancer survivor and CancerCare board member until her death in 2001.
Corporate honorees Genentech BioOncology, OSI Pharmaceuticals, Inc. and the OSI Pharmaceuticals Foundation were singled out for their avid support of CancerCare's counseling services, Telephone Education Workshops, Connect® booklets, lungcancer.org website, annual Lung Cancer Walk and financial assistance program for people with lung cancer. Genentech's president of product development, Susan Desmond-Hellmann, MD, MPH; and OSI's CEO, Colin Goddard, PhD, accepted the awards on behalf of their companies.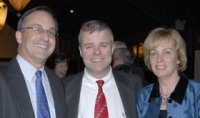 Laurel Perton, a lung cancer survivor and patient advocate, received the 2008 Community Beacon Award for her active involvement and advisory roles in CancerCare programs, including support groups for people with lung cancer and the relaunch last fall of CancerCare's lungcancer.org website.