Tic Tac® Partners With CancerCare for Its Third Year to Support Women With Breast Cancer
Pink Ribbon Boxes Offer Consumers an Easy Way to Make a Difference in the Battle Against Breast Cancer.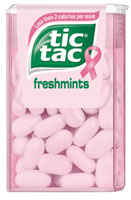 SOMERSET, N.J., June 5, 2007–-The Tic Tac® brand announced today its third-year collaboration with CancerCare, a national non-profit organization that provides free professional support services to anyone affected by cancer. Encouraged by the overwhelming success of last year's partnership, Tic Tac® is continuing its support of the important, national campaign this year with a donation of $100,000 to CancerCare. The brand will also be backing CancerCare's services by sponsoring the breast cancer section of CancerCare's website.
In honor of National Breast Cancer Awareness Month, Freshmints Tic Tac® boxes featuring pink packaging and the breast cancer awareness ribbon will hit shelves nationwide in September and October 2007. Recognizing consumers' heightened concerns with fighting this disease, the Tic Tac® brand developed Pink Ribbon boxes as a simple, yet significant, way to make a contribution to those affected by breast cancer and in need of professional support. Tic Tac® will donate $100,000 from the sale of the Pink Tic Tac® boxes to support CancerCare's breast cancer programs.
"CancerCare is excited to team up with Tic Tac® for a strong third year," said Diane Blum, Executive Director, CancerCare. "The Tic Tac® brand's supportprovides help and hope to people facing a breast cancer diagnosis right now. We are thrilled to be back with Tic Tac® this year and are grateful that the brand can help us provide resources to the many individuals affected by breast cancer."
2007 marks the 23rd anniversary of National Breast Cancer Awareness Month, which is designed to educate women about breast cancer detection, diagnosis and treatment. CancerCare's Diane Blum was one of the co-founders of National Breast Cancer Awareness Month. CancerCare remains one of the many organizations involved in the initiative, which has now grown to be one of the most recognizable health awareness initiatives in the United States.
Tic Tac®
The Tic Tac® brand has been part of America's cultural landscape for more than 35 years. The brand introduced its original flavor, Freshmint, in 1969, and gradually added Cinnamon, Orange, Spearmint, and Wintergreen flavors. Most recently, Citrus Twist and Cherry Passion were added to the product line-up. In January 2006 Tic Tac® Bold! mints were launched. Also, look for the latest addition, Bold! Berry Sour. To learn more about Tic Tac®, please visit www.tictacusa.com. For more information about the Tic Tac® partnership with CancerCare, please contact Stephanie Tannenholtz at (212) 715-1596 or email tannenholtzs@ruderfinn.com.