Survivor of Breast Cancer and Hurricane Katrina Honored at CancerCare's 24th Annual Human Services Awards Dinner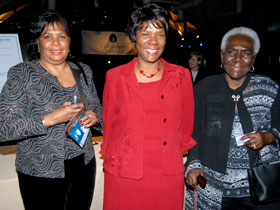 New York, February 28, 2007--Patricia G. Hebard (center), was honored during CancerCare's 24th annual Human Services Awards dinner, held in New York City on Feb. 27. Hebard, a lifelong resident of New Orleans, was diagnosed with Stage II breast cancer in 2005 and underwent chemotherapy treatments and several surgeries, the second of which took place just three days before Hurricane Katrina hit the Gulf Coast. Forced to relocate to Lousiana, she received financial assistance from Cancer_Care _through The ASCO Foundation's Hurricane Relief Fund. The Fund has provided nearly $700,000 to more than 600 people with cancer who were affected by Hurricanes Katrina and Rita. Joining Patricia at the awards dinner were her sister, Antonia G. Wilfred (left) and her mother, Olivia Grandpre (right), also a breast cancer survivor.
Also honored at the annual awards dinner were The ASCO Foundation and Amgen for their providing of financial support to cancer patients who were displaced by Hurricane Katrina; and the Mary Kay Ash Foundation, for its support of CancerCare's transportation assistance program for women undergoing treatment for gynecological cancers.