CancerCare Receives $50,000 from Astrazeneca Charity Challenge at PGA Tour's Chrysler Championship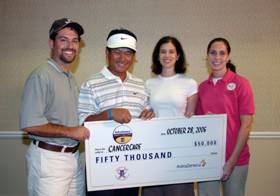 October 29, 2006--Matthew Lehmann (pictured, at left), brand director for AstraZeneca, joined Pro golfer K.J. Choi (second from left) and Kathryn Neff (far right), AstraZeneca's manager of oncology brand communications & external relations, in presenting CancerCare's Stacey Johnson Schutzer (second from right) with a $50,000 check raised through the AstraZeneca Charity Challenge, during the Professional Golf Association's (PGA) Chrysler Championship, held in Palm Harbor, Florida on October 28. The AstraZeneca Charity Challenge is a season-long competition that recognizes the tournament leader entering the final round of PGA Tour events with charitable contributions made in his name. K.J. Choi was honored for his first-place standing entering the final round of the Chrysler Championship. "CancerCare is grateful to AstraZeneca for its ongoing commitment to CancerCare and its free support services for people affected by cancer," said Diane Blum, executive director, CancerCare. "This generous donation will help to provide vital information and resources to thousands of individuals who are affected by this disease."
AstraZeneca is one of the world's leading manufacturers and marketers of prescription pharmaceuticals and the supply of healthcare services, with annual sales of over $21.4 billion of gastrointestinal, cardiovascular, respiratory, oncology and neuroscience products.
Last year, AstraZeneca donated $3.5 million through its PGA Charity Challenge program.
"AstraZeneca's partnership with the PGA TOUR is an integral part of our mission of giving back in local communities throughout America," said Tony Zook, CEO, AstraZeneca U.S. "The AstraZeneca Charity Challenge offers a unique platform for providing important disease awareness, health information and education to make a difference in the lives of patients and consumers everyday." (Photo courtesy of AstaZeneca U.S.)