The Tic Tac Brand Donates $100,000 in Support of CancerCare's Free Services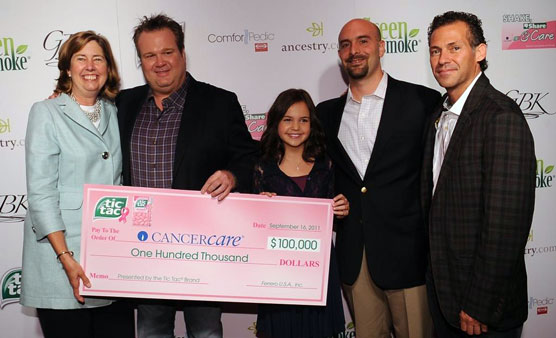 The Tic Tac Brand made a $100,000 donation today to CancerCare, a national nonprofit organization that provides free support services to anyone affected by cancer. CancerCare CEO Helen H. Miller, LCSW was on hand to accept a check during a ceremony held at the GBK Luxury Gift Lounge in honor of the 2011 EMMY Awards in Los Angeles, CA.
The donation was made as part of Tic Tac's 2011 Shake, Share & Care campaign, which marks the seventh year of Tic Tac's partnership with CancerCare.
In honor of CancerCare and Breast Cancer Awareness, Tic Tac® has again made available the popular limited edition Pink Grapefruit flavor. The flavor will be available at select drug, grocery and convenience stores through November 2011.
About Tic Tac®
The Tic Tac® brand was launched in the U.S. in 1969 by the Italian confection manufacturer Ferrero and has been a leading mint brand for 40 years. Tic Tac® is sold worldwide. For more information, visit .
About The Ferrero Company
The Ferrero Company was established in 1946 in Alba, Italy. The company's first product was made with hazelnuts and cocoa, resulting in the base ingredients for the world's #1 selling sweet spread on the market today—Nutella® hazelnut spread. Since then the company has grown to become one of the world's largest confectionery companies with a vast global portfolio that includes high-quality products such as Ferrero Rocher® chocolates, Ferrero Rondnoir® dark chocolates, Raffaello® confections and Tic Tac® mints. Ferrero products are distributed globally throughout Europe, North America, Australia, Asia and South America. For more information, visit .