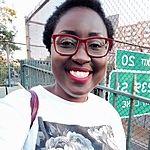 In March of 2020, everyone's lives changed when the world was affected by the COVID-19 pandemic. Of course, one wouldn't imagine that on top of such world-shaking events that they would be diagnosed with stage three breast cancer. For one woman, this became her reality. "I was 30-years old when I was diagnosed with stage three breast cancer back in March 2020 at the start of the pandemic." Weslinne, a mother to a 14-year old daughter, reflects about the importance of self-exams after her diagnosis, "I wish I knew more about the importance of self-exams after her diagnosis, "I wish I knew more about the importance of breast health at a young age and especially into my adulthood. Cancer doesn't discriminate, and early detection is key."
Weslinne had no family history of breast cancer, and she remarks on her lack of having the BRCA gene mutation. Because of this, "receiving a stage three breast cancer diagnosis definitely came as a surprise. As a society, the more we work on spreading cancer awareness and the resources, the more we'll help." Weslinne was presented with multiple resources, but she ultimately chose CancerCare when it came to receiving help getting through this incredibly trying and difficult time in her life. It takes a lot of bravery and preparation to deal with chemotherapy treatment during a pandemic, but what's more- Weslinne was also planning her wedding at the same time.
CancerCare provided her with individual counseling with an oncology social worker. That social worker helped Weslinne process her emotions "about having cancer in a pandemic and turning my wedding into a small drive-by wedding." The organization also helped Weslinne's daughter, who was mentally impacted by her mother's diagnosis. As Weslinne mentions, "The counselor not only focused on my cancer journey with her, but also talked about remote learning, COVID-19 and her transition into high school. My daughter enjoyed all of their sessions together. During the holidays, CancerCare gave her a present."
Time passed and the world continued to change, and Weslinne has completed active cancer treatment. CancerCare has continued to assist Weslinne, however. She plans to participate in our post-treatment survivorship support groups, initially recommended by her social worker. "I'm truly grateful to CancerCare for helping me through the most eventful year and a half of my life".
« Back to stories