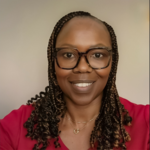 Valarie lives in the Midwest and before her cancer diagnosis, she worked in human resources, was active in her local church and spent time with her friends. In late fall of 2014, she visited her primary care physician after experiencing nosebleeds, long-lasting flu symptoms and back pain. Her doctor ran a blood panel that showed a high level of protein. She was referred to a hematologist, who diagnosed her with multiple myeloma. Valarie says that she had "a lot of questions and a lot of fear" because she didn't know a lot about blood cancer.
Valarie stresses the importance of second opinions. The local oncologist laid out a treatment plan for her and she asked about a second opinion, but the doctor said that she would get the same treatment plan elsewhere. Valarie decided to get a second opinion anyway. She says that it eased a lot of her fears and she learned more about her cancer. She learned that multiple myeloma is incurable but highly treatable with a stem cell transplant. She also learned more about treatment options.
Certain people on her medical team were also important to Valarie's cancer experience. One key individual was the physician's assistant, who helped explain the terminology associated with multiple myeloma. She also helped Valarie find resources for getting connected to others coping with cancer.
A specialist who managed her overall treatment plan for multiple myeloma was also an important member of Valarie's medical team. She says, "In order to get the best treatment, you definitely want somebody who's up to date with all of that information and can provide you with the best treatment options." Valarie also says that specialists can provide valuable second opinions.
Valarie's cancer experience inspired her to get involved with patient advocacy. She listened to stories from others affected by multiple myeloma, realizing that many of them were facing health inequities and not receiving an appropriate standard of care. "I wanted to do what I could to make a change, shed light on that, be a part of being a voice for those who can't have their voice heard."
By 2019, Valarie's multiple myeloma was in a period of "no evidence of disease" and she was trying to find a "new normal." This changed when she was diagnosed with breast cancer. Valarie stresses the importance of regular mammograms, as her breast cancer was diagnosed at an earlier stage. Multiple myeloma and breast cancer are two very different cancers, but Valarie says she was more prepared for the "roller coaster" of coping with cancer after her experience with multiple myeloma.
A strong support network was important to Valarie during her experiences with multiple myeloma and breast cancer. Some family members from the East Coast were able to visit her in the Midwest during her stem cell transplant. She also relied on her chosen family in the Midwest, which was made up of her group of friends and church community.
Valarie learned to figure out the different strengths of people in her support network. Some people excelled in emotional support such as praying and encouragement. Others excelled at practical tasks such as grocery shopping and cleaning. Overall, she says, "People want to help. They're willing to help. But they don't know what kind of support you need, so speak up."
CancerCare also became part of Valarie's support network after she was referred by the navigator at her hospital. She says, "Cancer patients, as you're going through this, there are lifechanging resources that CancerCare offers - financial assistance, community programs, education workshops - those are priceless things that people should take advantage of."
« Back to stories