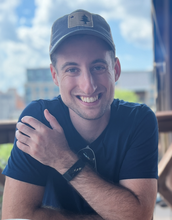 Josh, a 29-year-old water scientist from Manhattan, has always found a way to be outside, whether it's camping, hiking or biking. He also fills his time with board games and cherishes his tight-knit circle of friends.
At the age of 19, while he was in college, Josh's life took a drastic turn when he was diagnosed with Hodgkin lymphoma. The uncertainty and looming questions about what lay ahead weighed heavily on him. He tried distracting himself from his diagnosis and avoided talking about it. But he knew this approach wasn't helpful for him in coping. When he was diagnosed a second time, two years ago, with Hodgkin lymphoma, he sought another strategy to help him navigate his illness.
"It's interesting because I had two different experiences with it," Josh said. "When I was 19, it was a lot of uncertainty – what was going to happen, what it was going to look like after and what it all was going to mean. I struggled a lot with that."
He discovered that connecting with others facing similar challenges was instrumental in his healing. After his second diagnosis, CancerCare helped to provide the support network he needed, helping him realize he wasn't alone.
"Right away when I got sick the second time, the first thing I wanted to do was reach out to a support group and speak to other people who were going through something similar. Coming to CancerCare, going through the experience and talking to others going through it was really cathartic for me. It was just nice to know that you weren't the only one dealing with it, especially the only one at a certain age because cancer, especially as a young adult, is really isolating."
Josh also found solace in focusing on his physical health. He paid attention to nutrition and exercise to regain control over his body after experiencing weight loss during his first bout with cancer. This newfound focus helped him cope with the physical and emotional challenges of his diagnosis. "I focused a lot more on eating and exercise. This time it gave me a little bit of focus because I lost a lot of weight the first time and my body was a bit of a mess afterwards," Josh said.
Throughout his journey, Josh's friends played a pivotal role in his recovery. Despite the challenges of the pandemic, they rallied around him, providing unwavering support. "I had a great support group. I had friends who I talked with all the time and who would do daily yoga with me and I had friends who I would play games with."
Josh's friends often accompanied him to his infusion appointments, showing him that he didn't have to face cancer alone. He also stressed the importance of maintaining a sense of normalcy amidst the chaos of treatment. "I really just wanted my friends to not talk about cancer all the time and to have relatively normal conversations about life and other things because when you're in the thick of it, it's nice to have those breaks."
For Josh, the experience also taught him about dealing with uncertainty. He learned to find silver linings even in the most challenging situations. "Something I've always struggled with is when there's a lot of uncertainty in life – and it's often not fun – but there are usually some silver linings if you can find them during a situation."
One silver lining was a newfound clarity about his life choices. His illness prompted him to reevaluate his priorities, leading him to make a significant decision.
"I have a job in Albany and I love the job, but I wasn't loving the location of it. I was finding myself pretty far from my friends and family. And I think after I got sick, it was kind of just like, 'why am I doing this to myself?' I would rather be close to the people who I care about. So I made the decision to move back near where all my friends and family are."
Josh's journey with cancer, as challenging as it was, ultimately brought him closer to his loved ones and provided him with newfound clarity about the life he wanted to live.
"Talking to others, especially people who are going through what you're going through, is unbelievably helpful. But also using your support network and recognizing that a lot of your friends want to be there for you. It can sometimes be hard to ask for help, but I think most of the time the people in your life who care about you want to give that help."
« Back to stories