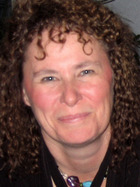 In July 2010, I was diagnosed with metastatic lung cancer. "I find that difficult to believe," I blurted out. But then, I thought, why should it be so difficult to believe? And my next thought was, cancer, like anything else life gives us, is an opportunity to learn and to become a more whole person.
Treatment for my diagnosis involved genetic testing for a mutation, surgery and the insertion of a catheter to drain fluid from my lung, and a protocol of targeted therapy, which resulted in a skin rash. I later read in the Journal of Clinical Oncology that there is a positive correlation between developing a rash and the effectiveness of the therapy. I came to see my rash as a badge of courage for staying on the path and holding on to hope.
My loved ones and many of my caregivers support this outlook. I have learned to embrace even the cancer; I have become more educated, more compassionate, and more intensely alive than ever. What has helped me the most is to know that I can be an active participant in my treatment plan and in my own life. Finding like-minded people and programs in my treatment centers has given me a sense of solidarity, which is very healing for the person facing a cancer diagnosis.
The Stories of Help & Hope shared on the CancerCare website are invaluable. I am strengthened by holding onto these stories of hope. The experience of others educates and enriches me, replenishing me so I can go forward, renewed.
I am hopeful that this diagnosis may continue to be treated as a chronic condition. The truth is we do not know where any diagnosis will lead. To envision the best possible outcome and to be open to what life gives has been tremendously helpful.
« Back to stories