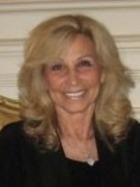 Cancer. I never believed it would happen to me. No matter how strong a person you deem yourself to be, nothing can ever prepare you for a diagnosis like this. Fortunately, I had the strength of the men in my life-my sons and loving husband-behind me to serve as my constant source of support. Round one of my battle began with my inner struggle on deciding how I was going to deliver such devastating news to my family.
In 2001, I had made plans to visit my sister in Florida for a couple of weeks. Before going down there, I went to have a routine physical. After the doctor examined my chest x-ray, he sat me down and said, "Phyllis, you have lung cancer." I was in a state of shock. I packed my bags and went on my trip as planned, not telling anybody about my visit to the doctor.
For two weeks I stayed with my sister, acting as if everything was perfectly fine, all the while thoughts of cancer permeating my mind. The day I left, I broke the news to her. We cried and I truly cherished the time we had spent together. When I got back home, I procrastinated from telling my family because it just never seemed to be the right time. I wasn't ready to witness the pain in their eyes but I soon faced the realization that their feelings of grief were going to be inevitable. So I sat them down and said those dreaded words, "I have lung cancer."
I'll never forget the looks on their faces. They didn't believe it…there was no way I could get cancer! I knew I had to be strong for them and act as the glue to hold us together. They were all so supportive and immediately initiated the search for doctors, making phone calls, etc. That's when reality set in and the actual battle began.
I was diagnosed with stage III-B lung cancer. I went through 3 months of chemotherapy, surgery, and 37 radiation treatments. I was fortunate because I didn't lose my hair but I faced many other debilitating effects. I suffered from constant ringing in my ears and awful nausea. My spine collapsed, forcing me to have kyphoplasty, which thankfully, was a success.
While undergoing chemo, I strived to lessen the intensity of what I was actually going through, in the hopes of making this burden lighter for my family to carry. I was always considered a strong person in their eyes so I knew I had to maintain that image, and that meant concealing the pain and sickness I endured. I would lie to them about the times of my radiation treatments and drove myself so that they wouldn't be subjected to seeing me suffer. This was a battle that I had to fight for myself, with my family as my inspiration. Without them, I could not have pulled through.
I am grateful for my health care team, in particular my surgeon, Dr. Mark Ginsburg. It's so important to make the best choices for yourself, and that includes feeling comfortable with and trusting your health care team.
In 2012, I had a triple bypass operation due to damage from the radiation I received. The recovery was tough, but I gave it my all and fought both mentally and physically.
Today I am in remission and feel good. I continue to go for tests every 6 months. I'm not 100% able to do what I used to do but I push myself and never give up. I always try to look at the glass half full and think positive thoughts each and every day. After all, it is pretty amazing that I am only operating on one and a quarter lungs!
« Back to stories