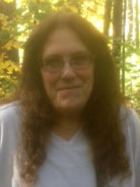 During a routine annual physical, my new doctor suggested that if my insurance would approve she would like me to have a CT scan of my chest, since I had been a smoker for many years. My insurance did approve it, and in Sept 2010 I had a CT scan. I had an appointment with my doctor the following day, and that was when I learned I had lung cancer.
I was diagnosed with Stage IV NSCLC, with metastases to my brain. I had stereotactic radiosurgery (SRS) to three lesions in my brain, followed by a course of chemotherapy (Cisplatin and Alimta), and followed by a pneumonectomy (removal of left side of both upper and lower lobes of my lung). I was placed on an oral chemotherapy medication called Tarceva following my surgery because I have the EGFR (epithelial growth factor receptor) mutation. But due to a possible reaction experienced in my eyes, the medication was discontinued. I continue to have routine MRIs of my brain every 2 months, and full body PET/CT scans every three months. In total I have had five SRS procedures since diagnosis.
Since I was pretty healthy prior to diagnosis, the most difficult thing for me has been the intrusion of all the doctors' appointments and tests and procedures, and the seemingly interminable waiting for results. But an even more difficult thing is watching those I love deal with each step of this journey. It's tough to be on this roller coaster ride never knowing what is coming, but knowing no matter what we will have to deal with it.
I have the amazing, wonderful support system of close family and friends that are at my side through this experience at every turn. I also have an incredible, invaluable network of friends I have gained through my lung cancer support group at CancerCare.
It's important to surround yourself with a team of exceptional doctors who can provide top-notch, cutting-edge care, and equally important that you create a circle of loved ones that can support emotional needs too.
The weekly lung cancer support group has become an integral part of my healing process. The friendships made are priceless, the knowledge and support shared is invaluable.
« Back to stories