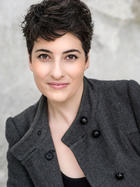 Luisa joined a support group at CancerCare after she was diagnosed with acute myeloid leukemia. She recalls:
Early on in my treatment, an aunt, who is a breast cancer survivor, insisted I sign up for a support group. I barely had the strength to sit up, let alone sit in a circle and discuss my feelings, but six months after my transplant I was beginning to feel in desperate need for some extra support.
On top of the physical side effects of treatment, I was dealing with some major depression. Even with an amazingly patient and supportive husband, and network of people around me, I needed some extra help. Along with one-on-one counseling sessions, I took my aunt's advice and joined a Young Adult Post Treatment Group at CancerCare. The Young Adult Post Treatment Group is for people aged 20-39 who have completed cancer treatment within the past year and a half, and meets once a week for twelve weeks.
Over the twelve weeks, the group became my life raft. No matter how tired I was, or how depressed/angry I was feeling, I made myself get to the sessions. Each week, we would share what was going on in our lives, and talk through our cancer related issues. The rules of the group and confidentially means I can't share the stories here, but I will say that this truly lovely group of people, hailing from all walks of life, a wide range of backgrounds and experiences, were all dealing with the same issues that accompany life during and after the Big C.
Despite the wide range of diagnoses, we were all going through similar experiences. From hair loss and regrowth, weight loss and weight gain, depression, anger, frustration, dealing with families/friends/spouses, dealing with doctors, ongoing tests and results, fear of relapse, to what it's like living post-chemo in the NYC summer, talking through life after cancer with a group of people going through the same thing was hugely helpful. It didn't make the problems go away, but it was a relief to know we weren't alone in our experiences.
During the final week of the support group, we looked at pictures of each other before and after treatment. We laughed at old hair styles, and how much we have all been physically changed by treatment. We compared scars and port sites, and shared pictures of our families and pets. I am immensely grateful to each person in the group, for their personal strength, their humor, their willingness to offer the tissue box, for sharing their stories, and just for holding space. Our moderator was wonderful, and did an amazing job of guiding the conversation and providing insights.
This story originally appeared on Luisa's blog, Show Time, where she delves deeper into how her experience at CancerCare's support group parallels the musical, RENT. Luisa also blogs about her experience as an actress, reviews "every movie musical ever made" and posts other personal musings.
« Back to stories