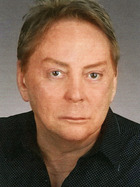 Allen is a native New Yorker who has lived through and beyond a series of extraordinary situations: multiple cancer diagnoses that needed immediate treatment, a car accident, and a first-hand account of the 9/11 terrorist attack on the World Trade Center.
But Allen, with his characteristic New Yorker cynicism, takes it all in stride. "People have said I'm like a roach—you can't get rid of me."
Allen's history with CancerCare goes back nearly 50 years. He first came to the organization with his family to find assistance for Allen's grandfather, who had been diagnosed with terminal cancer. "Fifty years ago there was very little available, we couldn't find hospice care from any organization" he recalls. "CancerCare was wonderful; they helped us get home nurses who helped my grandfather right up to when he passed away."
Years later, Allen would contend with his own cancer diagnosis, which was discovered under unexpected circumstances. "I was jogging on the west side in Manhattan and got hit by a car. I had a broken jaw, broken nose, broken cheekbones… the doctors did some scans on me and that's when they found the tumor [in my lung]."
He notes that, 30 years ago, cancer was not well-understood or even talked about in public. "There was no real understanding [by my friends and family], it was very hush hush. Even when people came to visit they would stand by the edge of bed, they didn't want to get too close." Still, after Allen's doctors removed the tumor and half a lung, he was declared "in the clear" and went on with his life.
For many years, Allen worked in public health at the New York City Department of Health (DOH) one block away from the World Trade Center. After the terrorist attacks on September 11, 2001, Allen was back at work the very next day in what was known as the "hot zone." "As a DOH person, we had to be there. We were working in a tent in Battery Park and then we moved around, getting exposed to chemicals and dust and all that…I'd been cancer free but that changed after 9/11. I was clear until 2003. That's when the roller coaster started again."
Comparing his second diagnosis to his first, Allen acknowledges that doctors have made a lot of advances over 30 years. And having already navigated one diagnosis, Allen knew what would be most helpful from his support system this time out.
"I organized a brunch in 2003 for 12 of my friends. I brought folders and I said 'this is what I need, this is what would be helpful.' Someone even took in my dog for three months. If you're diagnosed, that approach of pulling people together and letting them know what you need…that's very helpful. I've always had a wonderful, devoted support group of friends and family. They're the biggest asset I've had."
Following Allen's fourth diagnosis, he received services through New York City-based nonprofit SAGE (Services and Advocacy for GLBT Elders). It was here that he came across a flyer for a SAGE/CancerCare support group for men coping with cancer. The group, moderated by a CancerCare professional oncology social worker, became a place where Allen could share his experiences and learn from others who had been down a similar road.
"[Cancer] has been a rough struggle for all of us, but talking about it can give people hope. I met two lovely people from the group and we've become friends," he shares. "My feelings are: support goes beyond ninety minutes a week." About CancerCare's services, Allen shares, "I wish more people knew about you! You guys do such good work, free of charge. People need to avail themselves of your services."
As with many people coping with cancer, the financial hardships Allen experienced were some of the most challenging he faced. "You just go broke when you're on your own," he shares. "You're paying bills, you can't work…[cancer] has cost me thousands during my lifetime."
But for Allen, maintaining a positive outlook (with a smattering of dark humor) has made all the difference in how he's coped with the many challenges he has faced. "You've really got to try," he says. "It's very difficult to keep a good attitude, but you've got to try so hard. Acceptance is a big factor…all you can do is try, and try and stay as healthy as you can."
"Living through much adversity can either make you bitter or more caring and empathetic," he concludes. "I am truly blessed because it made me a more caring and giving person. Cancer made it important for me to reach out and help others and not to dwell on myself or feel sorry for myself. It is important to me to share this with others. It may sound sappy. But it is real and very healing."
« Back to stories