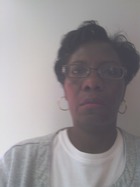 Valarie, age 57, got the call in June of 2016 that her mother Cleola, age 81, was just diagnosed with non-small cell lung cancer. Valarie immediately left her home in Kansas to care for her mother in Mississippi.
"I was devastated when I found out my mother had lung cancer. But I felt determined to help her fight it," shared Valarie. "I have been here since her first chemotherapy treatment and it has been very hard on her at her age."
Since arriving to Mississippi, Valarie has been at her mother's side for every appointment. As a caregiver, Valarie struggles not having a lot of control when times are tough. Keeping up with bills and the long drive to her mother's treatments can be overwhelming. Valarie and her brother drive their mother to a hospital that's over an hour away from their home where Cleola receives chemotherapy treatments. Early on during Cleola's treatment, a member of her health care team told Cleola's family about CancerCare. Shortly after, Cleola applied for financial assistance to help with the cost of transportation, providing much need financial assistance.
"You have made a wonderful contribution to her cancer care in providing us assistance with travel," said Valarie. "We have to go 60 miles from her home to the clinic for her treatments so this assistance is invaluable to us. This is especially invaluable on a fixed income. We are so grateful to CancerCare."
In addition to reaching out to CancerCare, Valarie frequently turns to her three sisters there in Mississippi and the two who live in Texas and her prayer groups for support. Valarie says the support she receives helps her be more flexible and gives her energy she needs to cheer up her mother when she's down. "I want to thank you for your financial assistance with my mother who is fighting lung cancer," said Valarie. "We thank God for all of you at CancerCare on behalf of my mother Cleola."
« Back to stories