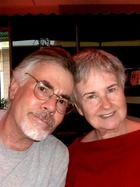 After Debra lost her beloved life partner Alan in 2014 to a rare form of cancer, she found herself struggling to cope. She first discovered CancerCare in 1992, after her mother passed away from cancer, and decided it was time to reach out again for much needed support.
"I was feeling very shaky after losing Alan and I'd just started a new job a few months before. I didn't want the unprocessed grief to continue to wash over me all of the time," shares Debra. "I decided to call CancerCare and found myself weeping through my initial conversation with a social worker."
Alan had been in Debra's life for 20 years, but he had recently moved to Palm Springs while Debra stayed in New York City. "I love the city and couldn't imagine giving up my life here. We both decided that I couldn't move. I was heartbroken, but we were always calling each other. We had a unique relationship and he was the person that I deeply loved."
During their conversations, Alan mentioned that he was experiencing a lot of physical discomfort, but attributed it to his recent strenuous move. He decided to visit a doctor after discovering a growth on his neck and was diagnosed with thymic carcinoma, a type of cancer in which cancer cells form on the surface of the thymus, located in the upper chest. "It was such a rare type of cancer that no one knew much about it. He underwent chemotherapy, but the cancer had spread everywhere."
Debra began making plans to relocate to take care of Alan, but he died within 12 weeks of his diagnosis. "To lose Alan when he was only 62 was extremely surprising. I miss his sense of humor. He was incredibly talented and worked as a comic book artist for Marvel and DC Comics. He was still recreating his most famous pieces when he passed."
Debra began counseling sessions with CancerCare Social Worker, Elizabeth Ezra, OSW-C, LCSW, to help her work through the emotions associated with her loss. "Liz was wonderful. I could tell that she put so much thought into our sessions. She was so warm and funny. She had a great deal to share about what she has learned through her work with people affected by cancer."
Working closely with a professional social worker, as well as time, helped Debra to slowly heal. "Liz kept me off of negative, fruitless paths. All of the magical thinking can be so overwhelming. She would tell me that there was nothing I could have done to change the outcome. This wasn't my fault. Our conversations helped me to construct a more positive story for myself rather than ruminating on all of the loose ends."
Debra, a former copywriter, now works for the Department of Education. She lives with her two cats, Oscar and Zoe, and enjoys exploring local museums and parks. Thanks to the help she received, she is now able to focus on the wonderful times she shared with Alan.
"Death is a new experience for so many people, especially when it's someone who is very close. For me, it was important to meet it head on. I think talking about things is crucial because it's easy to get into mental ruts. It helped me to put things into perspective and revisit the wonderful memories. CancerCare gave me the gift of insight and tools that I will always carry with me."
CancerCare provides free, professional support services for people who have experienced the loss of a loved one to cancer, as well as grief and loss information and additional resources. Learn more about CancerCare's grief and loss resources.
« Back to stories