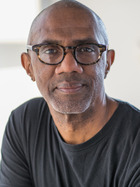 Ron M. is a cancer survivor who describes himself as a man with "advocacy running through his veins." Born and raised in Washington, D.C., from an early age Ron exhibited a passion for helping others, going straight into the nonprofit field after high school through a job at the National Association for Home Health Care. "It was there that I really discovered my need to help people," Ron shares.
After being diagnosed with HIV in 1984, Ron dedicated himself even more to advocating for issues affecting his life and community including home health care, homelessness, and crucial health issues facing the black community. "And then in 2009 I was diagnosed with cancer," Ron recounts. "That was a big problem. This was after 30-something years of surviving living with HIV, and now I had to deal with having anal cancer on top of that. That really threw me for a loop.
"During the time of my cancer diagnosis, my health wasn't doing very good due to my HIV. My oncologist told me my body couldn't handle the cancer treatments I needed because my immune system wasn't working right. So he boosted my immune system and after a few weeks I was ready for surgery. So we had the operation. I stayed in the hospital two months with a colostomy, and that changed my life. It was just so sad for me to go through that."
Ron stayed in D.C. having surgery after surgery, and then moved to New York to begin treatment at Mt. Sinai. "I was at my doctor's office [in New York City] one day telling him about my need of trying to connect with survivors of cancer, because I didn't really have anybody to talk to like that…no guidance whatsoever…I had an illness and thought I was just going to live with it and make the best of it, but that wasn't really getting me anywhere. And I couldn't understand cancer; I was really kind of lost.
"So my doctor told me about this organization called CancerCare that happened to be in the same building as my doctor's office. So I called CancerCare and spoke with someone and they immediately put me in the system and gave me some great information. I remember asking [my social worker], 'Do you need my Medicare card number?' and she said 'Nope, no need, because all of our services are free.' She invited me to get into a support group and I didn't even have to give it any thought before saying yes. I was told to come to the group and I met my social worker and the other members of the group. It's been absolutely helpful to me."
Ron joined a support group for men coping with cancer led by an oncology social worker, where he found other men in a similar situation. "What I like about the support group at CancerCare is that these guys are so knowledgeable that when they discuss their treatment or whatever they're going through, they actually give information on medication, coping skills, switching doctors, everything. If I ran into somebody who needed the 'CancerCare connection,' they would certainly get it from me."
"My mother and brother died of cancer, and neither of them went to a support group or anything like that. I am fortunate that I was told to come to CancerCare and it's been a big lift off my shoulders in terms of managing stress. Managing my cancer and managing my care has been absolutely wonderful thanks to CancerCare."
« Back to stories