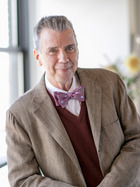 Willard B. is a New Yorker who has been applauded for his talents as a composer, lyricist, playwright, director and performer on New York City's storied theater scene.
"I came to New York City from Oklahoma in 1972 to perform in the theater and went on to do three Broadway shows and several national tours," Willard shares. "Then I started writing my own musical comedy called 'Lucky Guy' and so far, I've had seven fully staged productions of the show, the latest of which being Off-Broadway here in New York. I'm proud to say "Lucky Guy" was nominated for a 2012 Outer Critics Circle Award for Outstanding New Off-Broadway Musical."
Willard's dedication to his craft would be tested in 2016, however, after being diagnosed with squamous cell carcinoma. "Theater had always been my passion and my focus," Willard explains. "So being diagnosed with cancer was really weird, because suddenly that focus totally changes. It's as though nothing else is as important anymore. You don't have time to think about anybody or anything except fighting this thing."
Willard recounts the month leading up to his diagnosis: "I had been asked to sing in a concert at The State Theatre in New Jersey for over 2,000 people and was absolutely thrilled to do it, but then the very next morning I woke up and felt this weird thing in my throat. Since I now had to sing, I immediately went to my doctor that same day who thought it was only a sinus infection. But it wasn't: it was the cancer.
"By the time I did the concert, 4 weeks later, I was so weak that I had to lie down on the floor backstage between songs. I just had no strength left. The following day, as I was getting ready to go to the doctor for the results of my recent biopsy, I heard a strange message on my answering machine from some woman who I guess had known my parents back in Oklahoma long before I was born. This "mystery woman" went on to say that her mother was the lady who had taught my mom to make my mother's most famous dish. Instantly I knew this was a sign from heaven telling me not to be afraid. It was like my mom was right there with me and I felt as if I were gently wrapped in angel wings all the way to my doctor's office. There was none of that horrible dread you can have even when the doctor said those words you hope you'll never hear 'malignant cancer.'
I never panicked. I just said, 'Okay, so what do we do? I'm ready for anything. Let's go.' This was a Monday, and he said 'I want you to have a complete health care team in place by Friday.'
"While going through my radiation and chemotherapy treatments, one of my best friends who happens to know a CancerCare social worker, said, 'You need to reach out to him.' But while you're in the midst of it all, reaching out is the last thing you want to do, like talk to a stranger, you know? I didn't even think about it. And then, I was going back to my radiologist in the fall and sharing with her that two of my close friends had totally fallen away…I was so depressed that I started going downhill and lost 50 pounds. This was after my cancer treatment but I was still dealing with so much stress and sense of loss. "So my radiologist said 'You've got to go to CancerCare' and gave me their phone number."
Through individual counseling with his oncology social worker, Willard was able to gain the skills to better cope with the changes to his body and spirit brought on by his diagnosis. "I think I've learned to appreciate myself," Willard shares. "It doesn't happen overnight but I'm doing the best I can. You know, I'm working with a trainer three times a week now. I think it's going to be a full year before I look or feel like the old "Willard" I identify with again, but am mighty proud of the marvelous progress I have now made!
"I feel extremely fortunate that my cancer was caught so very early; it was eminently treatable and my team of doctors was terrific, I always look forward to my appointments with them. And that really extends to CancerCare. This is such a healing environment. The quality of everyone I've met here is truly amazing…they really care so much about what they do and it's evident to me that they helped me through the most difficult time in my life, because I felt like somebody really did care. Talk about Angel wings!
Yes, these days I'm gravitating toward positive people with positive energy, and I think CancerCare is definitely a big dose of positive energy." I can't thank them enough!"
« Back to stories