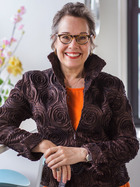 When Judith was diagnosed with lymphoma in 2014, she took it as an opportunity to take a step back and reevaluate her life. Over the course of three decades, she had worked as an actress, a healer, and a childbirth educator and labor doula. She even assisted at the first underwater birth in New York City. In this new phase of life, she saw a chance to seek clarity.
"Cancer woke me up, slowed me down, got me to my next step and helped me get rid of things in my life that weren't working," she says.
Despite Judith's proactive attitude, coping with the daily realities of a cancer diagnosis was still a struggle. She knew she wanted support, but had trouble finding a counselor who she clicked with. She found her match at CancerCare.
"My CancerCare social worker, Anna, was very open to listening and working with me where I was," Judith says. "I met with her right after my last chemo session. I was barely able to walk into her office, I was so discombobulated."
CancerCare became a safe place for Judith to discuss her decisions and emotions as she continued her treatment. "Anna became a grounding rod," she shares. "I felt safe, when I went into her office. She helped me get through multiple surgeries – dealing with the pain, the politics, the billing, the uncertainty – and helped me focus on the here and now."
Judith also took advantage of CancerCare's online support groups, and particularly enjoyed Healing With Words — A Therapeutic Writing Group. "That was extremely, extremely helpful. Writing became my manna, my life source. I had to do it to get well. I still write every day." She estimates that in that group alone, she wrote enough material for a book.
When asked what advice she'd give to other people coping with cancer, Judith says, "Call CancerCare immediately. They offered me full-spectrum support."
Judith now defines herself as a cancer thriver – someone who is focused on finding 'the thrive beyond the survive.' "Even as a strong, independent woman, I still have fears. I'm still seeking," she says.
"Cancer was about opening doors to something new. I'm still asking the universe, what? And with faith and trust, being guided to the answers."
« Back to stories