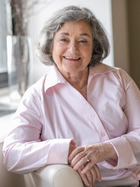 Nancy came to CancerCare after she was diagnosed with lobular breast cancer. She had been treated with a lumpectomy and radiation 20 years earlier, after her health care team discovered a small, abnormal growth. However, it wasn't something that was part of her day-to-day life. "The experience was very frightening, and very surreal," she recalls.
"A cancer diagnosis is shocking on so many levels," Nancy says. "It's a disease with so many unknowns. Without the solid support that CancerCare offers, I don't know how I'd have gotten through it."
CancerCare's individual counseling services have helped Nancy maintain her relationships during treatment and cope with fears of recurrence. Counseling also helps her manage the practical aspects of a cancer diagnosis, like going to doctor's appointments and coping with the side effects of her treatment.
"Knowing I'm going to counseling helps me do the things I have to do to manage my cancer," she says. "I come in feeling terrified and I come out feeling ok. It is as if fear and any paralysis is lifted and replaced with hope and action and such good feeling and gratitude."
Nancy's social worker, Elizabeth Ezra, has also helped her take risks in her career. Nancy teaches English as a Second Language, and also works as an actress. While she was going through treatment, she was unsure if she should continue to act.
"I asked Liz if I should do a play and she told me to go for it. I ended up being nominated for an award, all due to her common sense and encouragement. It makes me cry to think about it. She was instrumental in helping me to accept that role."
She also received significant support from the person she calls "the love of my life." Though the two aren't able to see each other often, they spoke every day during her treatment. "I felt encouraged, loved and desired through everything. I learned that passion, tenderness, true compassion and humor help with acceptance and fear."
As Nancy focuses on coping with cancer and the changes it has brought to her life, CancerCare has provided her with a sense of sanctuary. "It's a very peaceful place. You walk in and there is something so healing about the space. Everyone feels very connected."
"CancerCare has been wonderful," she says. "Liz is amazing. She saved my life!"
« Back to stories