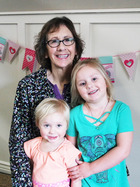 It's been eight years since Becky was diagnosed with breast cancer. Now, as a survivor, she still finds time to give back to those who are currently undergoing treatment. Though she works as a pre-school aide for children with special needs, she is perhaps better known as a fixture of the cancer community in Idaho Falls, ID. As a friend told Becky, "No one fights alone."
But that was a lesson it took time to learn. "At the beginning, I was very, very private," Becky says. "Nobody knew my business. As time progressed, I realized I needed to reach out or I was going to drown."
After she was diagnosed, Becky's top priorities were getting through treatment and supporting her son. "The train was moving whether I wanted it to or not," she says. "I was worried and scared. I had to get my house in order. My son was living at home – he was 22 years old at the time. I wanted everything to be ok for him."
To help her get organized and manage her finances, Becky worked with a social worker at her treatment center, Teton Cancer Institute. "She was helping me get all these different grants in order, because calling multiple people during chemobrain was overwhelming," Becky recalls.
One of those sources of support was the CancerCare Co-Payment Assistance Foundation (CCAF), which awards grants to help patients cover the out-of-pocket cost of their medication.
Becky shares: "When I called CCAF, I connected with Michele McCourt. She was really nice. I said that my need is great, and I would appreciate anything you can do. She was very kind, caring and compassionate."
Becky says the CCAF grant "eased the stress of the financial burden. Sometimes the financial debt can seem worse than the chemo itself. It was painful."
The grant also allowed Becky to focus on other aspects of her life. "Knowing that I had help to rely on meant that there was one less thing to worry about."
When Becky looks back on her experience, she recognizes the immense role that was played by her support system. "I couldn't have done it without CancerCare, the nurses at the Teton Cancer Institute, the Snake River Cancer Alliance support group and many others. My son and his fiancé at the time (now wife) were very helpful. He cooked for me, she did things for me. They both were my angels." Now she has two more angels, the lights of her life, her granddaughters. She says she lives to the fullest each and every day, no matter what comes her way.
In that spirit, Becky now draws upon her experience as a way to help others. "Sometimes you go through a test, and then you can help other people because you've been through it," she says. She participates in Women Helping Women – a local group that hosts dinners to raise funds for women with cancer. When Becky turned 60, she invited her friends and family to make comfort bags for others coping with cancer.
For those who are coping with cancer, Becky has one overarching piece of advice: "The most important thing is, don't be afraid to ask for help. Remember, no one fights alone. And there is always hope."
« Back to stories