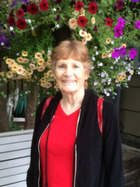 A cancer diagnosis can turn a person's world upside down, and adjusting to the physical, emotional and financial changes is often challenging. When Sigrun was diagnosed with an aggressive type of chronic lymphocytic leukemia (CLL) in 2010, she says she immediately felt those changes coming.
"It was dramatic, traumatic. It threw me into a lot of stress," she recalls.
At the time, she was living in Washington state, alone in an apartment. For several years, her health care team recommended a "watch and wait" approach. A few years later, she was treated with chemotherapy.
Time passed and in 2017, she was prescribed an oral chemotherapy medication. Sigrun says she knew very little about the drug, and was shocked when she heard the price. "It's incredibly expensive, even if insurance is covering it," she says.
Her pharmacy referred her to the CancerCare Co-Payment Assistance Foundation (CCAF), which provides grants to help offset the cost of co-pays for cancer treatments.
"It's life-changing," Sigrun says, of the assistance she received. "With the stress that you're under with the disease, you're falling apart, and then you have to start stressing about finances. Receiving co-pay assistance took away that horrible additional stress."
Receiving co-pay assistance also allowed Sigrun to start her treatment before her condition worsened. She had already delayed treatment because of the cost of her medication. "I was supposed to start treatment in November 2017. I delayed treatment until January 2018 because I didn't have financial resources to start treatment. That was a stupid thing to do, because there was a lot of damage done during those two months."
"If anybody else is faced with this, don't be afraid to reach out," she says. "When I did, friends were right there to help. Talk to the people you interact with in the hospital. Check what resources are available. It's so critical."
Sigrun also advises others who are receiving cancer treatment to research potential side effects of their treatment in advance. "I didn't know exactly how my body would react, so I didn't have my environment prepared. Once treatment started, I couldn't drive, cook or shop, because it affected my back. I was barely able to move, and I didn't have enough food or the things I needed to manage my pain."
Eventually, Sigrun signed up for Meals on Wheels and started using a walker. She cautions others to "learn as much as you can about what could happen, especially in terms of side effects. Understand that there could be grave limitations, line up people who can help you in advance, and simplify your surroundings."
She also recognizes that coping with some of the physical changes of cancer can be difficult. "It was a really harsh adjustment," she says. "I used to be a runner, I used to be athletic. Now I'm using a walker every day. I went through a period of accepting that I have reached a dramatic change in my life, and I don't know what to expect from day to day."
As Sigrun navigates her new normal, she has learned to pay attention to her emotions and accept help from her family. "I meditate. I monitor my feelings - especially fear. I recently moved in with my son, daughter-in-law and grandkids. That has been a wonderful change in giving me the support that I need."
"I've lived a long and good life, and I'm grateful for that. Now it's time to enjoy what's left."
« Back to stories