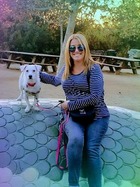 In January 2018, Lori's life was turned upside down. Lori knew she had a higher risk for breast cancer as a BRCA2 mutation carrier and was getting screenings every six months, but that didn't make her breast diagnosis any easier.
"I didn't think it would ever happen to me," said Lori. "After you hear the news, you're just in shock and complete disbelief."
Lori describes herself as a strong and independent woman but knew this was going to be a complete life change. After her initial 13+ hour surgery and two more related surgeries, all within six months, Lori recognized that she needed help from an outside source. She was out of work for over seven months, and although she was supported by great friends and family, Lori needed someone else to talk to who could understand exactly how she was feeling.
"I heard about CancerCare from my best friend who is a therapist and was amazed at the free support and care they offered. I worked with Christine, an oncology social worker, and was able to talk about the depression I was feeling due to the pain, and stress with the lack of work with someone who was familiar with the challenges I was facing."
But Lori had another extremely valuable and unique source of support: her dog Sparkle.
Sparkle had a rough start to her little life. The Jack Russell and Corgi mix was abused and left on the street. Two years ago, Lori adopted Sparkle and spent the next year and a half helping her heal and learn to trust again. Lori had rescued Sparkle, and now it was time for Sparkle to repay the favor.
Before Lori's diagnosis, she noticed Sparkle behaving differently. At night, Sparkle started laying her head on Lori's left breast, something she never did before. She seemed more attentive. After Lori was diagnosed with cancer in her left breast, she realized that Sparkle was her already one step ahead of her. Throughout her treatment, Sparkle was a constant source of support and always by her side, who instinctively knew when Lori was in pain and provided comfort to her.
"Sparkle was my rock throughout this challenging time, and I'll forever be grateful to have her as my best friend."
« Back to stories