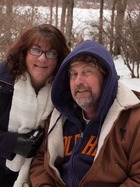 Donna's journey with CancerCare started shortly after her husband, Robert, was diagnosed with glioblastoma, an aggressive form of brain cancer. As high school sweethearts who had been married for 31 years, both Donna and Robert recognized that they needed help to cope with this experience.
"How do you cope with this, while also being there for your loved one and your children? This was the only thing I could think of and it consumed my every thought and action. I was trying to be the best wife, caregiver and mom, but I was really struggling to keep it together," Donna recalls.
During this time, someone gave Donna CancerCare's phone number. She reached out and felt less alone as soon as she started counseling. Donna says that one-on-one counseling for her and her husband became her "lifeline" throughout her husband's treatment. Her social worker helped provide Donna with tools to cope with caregiving and process her own emotions.
"Nothing could have prepared me for the next heartbreak, the loss of the love of my life, after a valiant fight for 20 months," says Donna. "But I knew CancerCare would be there for me as they were throughout his treatment."
After Robert's passing, she continued to receive one-on-one counseling. She also joined a bereavement support group, though she was unsure of what to expect. "We were people brought together by cancer, and I can now say we are lifelong friends who support each other on the bad days and celebrate with each other on the good days."
Donna shares, "CancerCare has been with me through the hardest time of my life and I will always be so thankful to them. The grief of missing my husband will never go away and I know that, but with all I have gained and learned from the services at CancerCare, I know there is a brighter tomorrow and future ahead."
« Back to stories