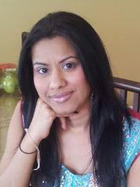 "When I first came to CancerCare," 37 year-old New Yorker Ekata recalls, "I thought I'd have two or three sessions, and that would be it." A year later, Ekata continues to meet with her professional oncology social worker for individual counseling.
Ekata was diagnosed with chronic lymphocytic leukemia (CLL) in May 2011. CLL is a cancer of the blood and marrow that typically develops slowly. "I almost felt relieved when I found out," she recalls, "which is probably not a normal reaction. CLL was a better possibility than what I suspected." Still, Ekata's diagnosis affected all facets of her life. After leaving her job as an executive comptroller at a top organization due to long hours that took a toll on her body, Ekata had to contend with daily fatigue and was no longer able to maintain her active lifestyle. She also faced the uncertainty of the impact of her diagnosis on previously held goals, such as starting a family and developing her career.
While many people in Ekata's situation might center most of their anxiety around their own health, Ekata was more concerned about how her diagnosis affected her family. "My family looks to me for cues on how to act, so I was concerned about making them worry about me," Ekata says. "There are certain things I can't open up about [with them]."
At the urging of her brother, Ekata contacted CancerCare. Though she was initially skeptical, Ekata found speaking with her social worker, Caroline, helped her better manage the feelings she found difficult to express. "She has been amazing," Ekata says. "She made me feel comfortable right away."
"When I come to CancerCare," Ekata says, "that is my safe place to talk about anything. My social worker has been an amazing validation for me." Through working with Caroline, Ekata has learned to focus on herself rather than feel occupied with what people around her are feeling. "It's hard to figure out your emotions sometimes, but she makes me realize that it's okay to feel the way I feel." Along with the counseling Ekata receives, she also participates in CancerCare's free reiki workshops at Caroline's suggestion. "I love CancerCare classes," she says. "I've met some really nice people through them."
Ekata found working with her social worker so helpful she convinced friends and family to go to CancerCare as well. "I tell people that [CancerCare's services] are flexible and top quality." Above all else, Ekata is grateful that CancerCare has helped her maintain her sense of normalcy. She says, "CancerCare gives me the support I need to go out and be the person I want to be. I'm able to be the person I always was."
Ekata shares more about her journey on the website she and her family created, makemestronger.com. The site allows visitors to change their profile image to raise awareness of people coping with a blood cancer, and also provides a link to a comprehensive bone marrow registry.
« Back to stories