CancerCare Oncology Social Workers Contribute to New Book on Caregiving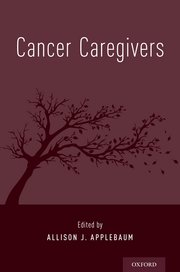 Two of CancerCare's most notable oncology social workers, William Goeren, LCSW-R, ACSW, OSW-C, SEP and Sarah Kelly, MSW, LCSW, recently contributed a chapter for Dr. Allison Applebaum's book Cancer Caregivers.
Cancer Caregivers reveals the psycho-oncology's exploration into caregiving and the process. It also explores the importance of supporting caregivers, as well as the legal and ethical concerns faced by caregivers throughout the process.
Dr. Applebaum, in addition to other contributors, discusses the rapid advances in cancer care, including changes in drugs and therapies. People with cancer are living longer and hospital stays are shorter, which means there has been a shift toward outpatient care. While advancements have benefited people living with cancer, the demands placed on all caregivers and their needs have substantially increased.
In Chapter 17, titled CancerCare: A Psychosocial Oncology Support Organization, William and Sarah delve into the role of an informal cancer caregiver, such as unpaid spouses, partners, loved ones, family and friends, and how their roles play an important role in the management of the loved one's diagnosis. They also give an in-depth look into CancerCare's free supportive services, including the Hopeline, counseling, support groups, financial assistance, workshops, publications and other online tools.
To learn more about Cancer Caregivers, visit: https://www.amazon.com/Cancer-Caregivers-Allison-J-Applebaum-ebook/dp/B07N2YMPJ1.
New Comment