CancerCare Social Workers Lead Workshops on Courage at the 3rd Annual Pediatric Melanoma Summit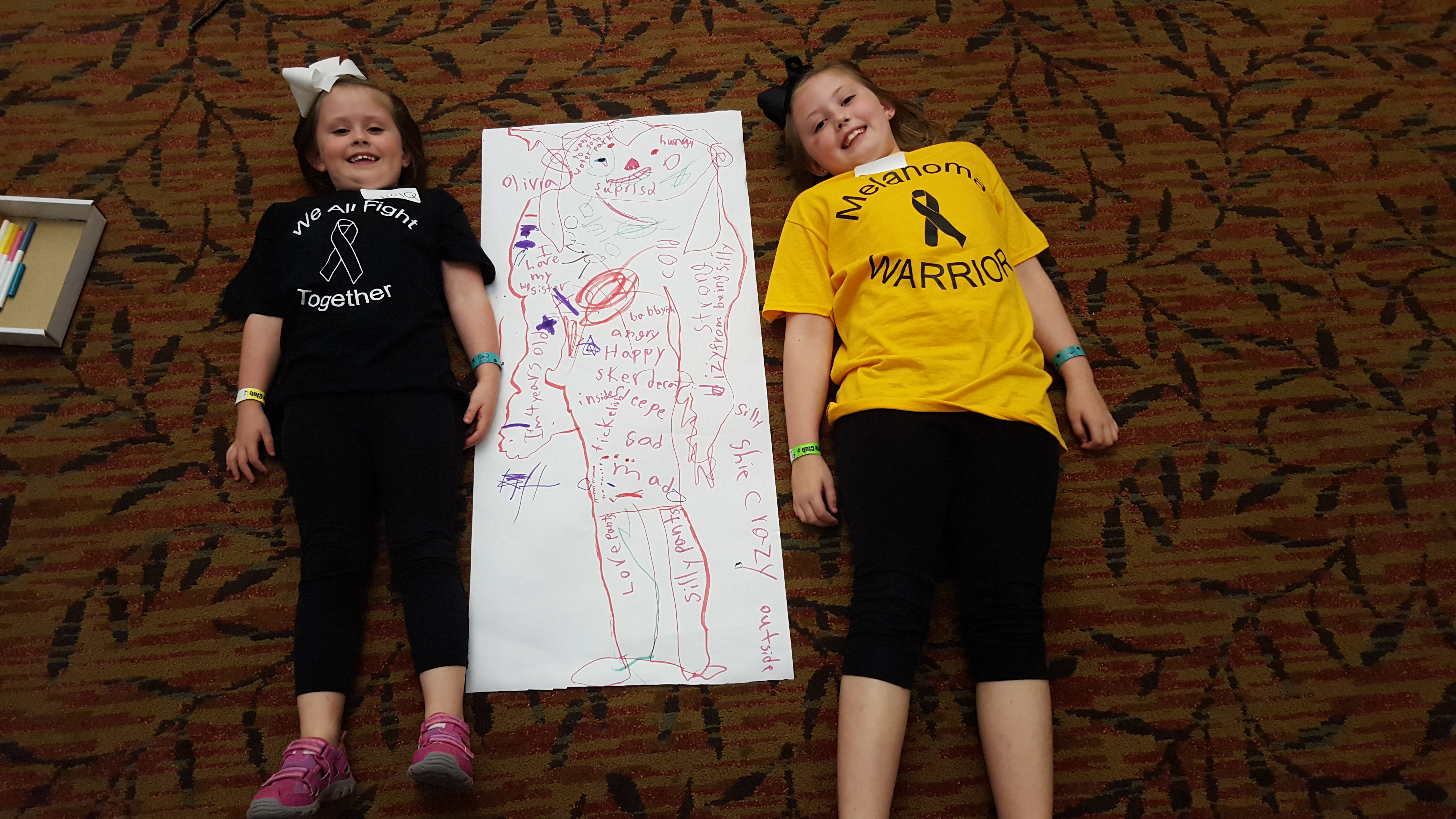 CancerCare had the privilege of attending the third annual Pediatric Melanoma Summit, hosted by the Melanoma Research Foundation, to provide supportive workshops to pediatric melanoma patients, their siblings and their parents. In attendance were: Susan Beno, LCSW, Claire Grainger, LCSW, OSW-C and Sarah Paul, LMSW.
Pediatric melanoma is a rare form of skin cancer that presents in children. The National Cancer Institute estimates that approximately 500 children are diagnosed each year. The Pediatric Melanoma Summit gives patients and their families the opportunity to come together on common ground to attend workshops that foster emotional growth and bonding. The summit also provides an educational experience on topics such as sun safety and nutrition. It is hosted each year at The Great Wolf Lodge, which includes access to their indoor waterpark and other family-friendly activities.
After getting to know some of the families on Friday night, CancerCare's social workers spent Saturday morning with the children, leading two different workshops on courage. In the first part of the morning, Susan worked with the younger children reading a book called "Courage" by Bernard Waber and illustrating dragons that represented what courage means to each child. We had enough books for each family and they were generously donated by Light One Little Candle; an organization designed to encourage cancer patients who are also caregivers to continue to bond with their children throughout their illness by reading books together that have nothing to do with cancer.
While Susan met with the younger children, Sarah and Claire led a workshop on learning how to find inner strength and courage. The group worked on posters titled "Let's Celebrate Me and My Courage" where they were encouraged to write about their personal strengths in order to embrace their uniqueness. Later that morning, all of the children came together in an activity where they made enlarged self-portraits. This exercise helped them learn about the differences between how they see themselves and how the world may see them. Claire also led a workshop on mindfulness for the parents on Sunday morning while the children attended a yoga class.
Claire reflected, "Our goal was to have these remarkable children and their families recognize the courage that they display, but may not even recognize, to bring forth a sense of empowerment. Children are more apt to understand what it means to be 'mindful,' and to live in the here and now. They were able to engage in the therapeutic and fun activities and may have even learned a bit about themselves as they supported one another."
CancerCare would like to thank the Melanoma Research Foundation for including our social workers in their annual Pediatric Melanoma Summit this year. We look forward to future collaborations!
New Comment