Families Heal Together at the Seventh Annual Healing Hearts Family Bereavement Camp [Part 2]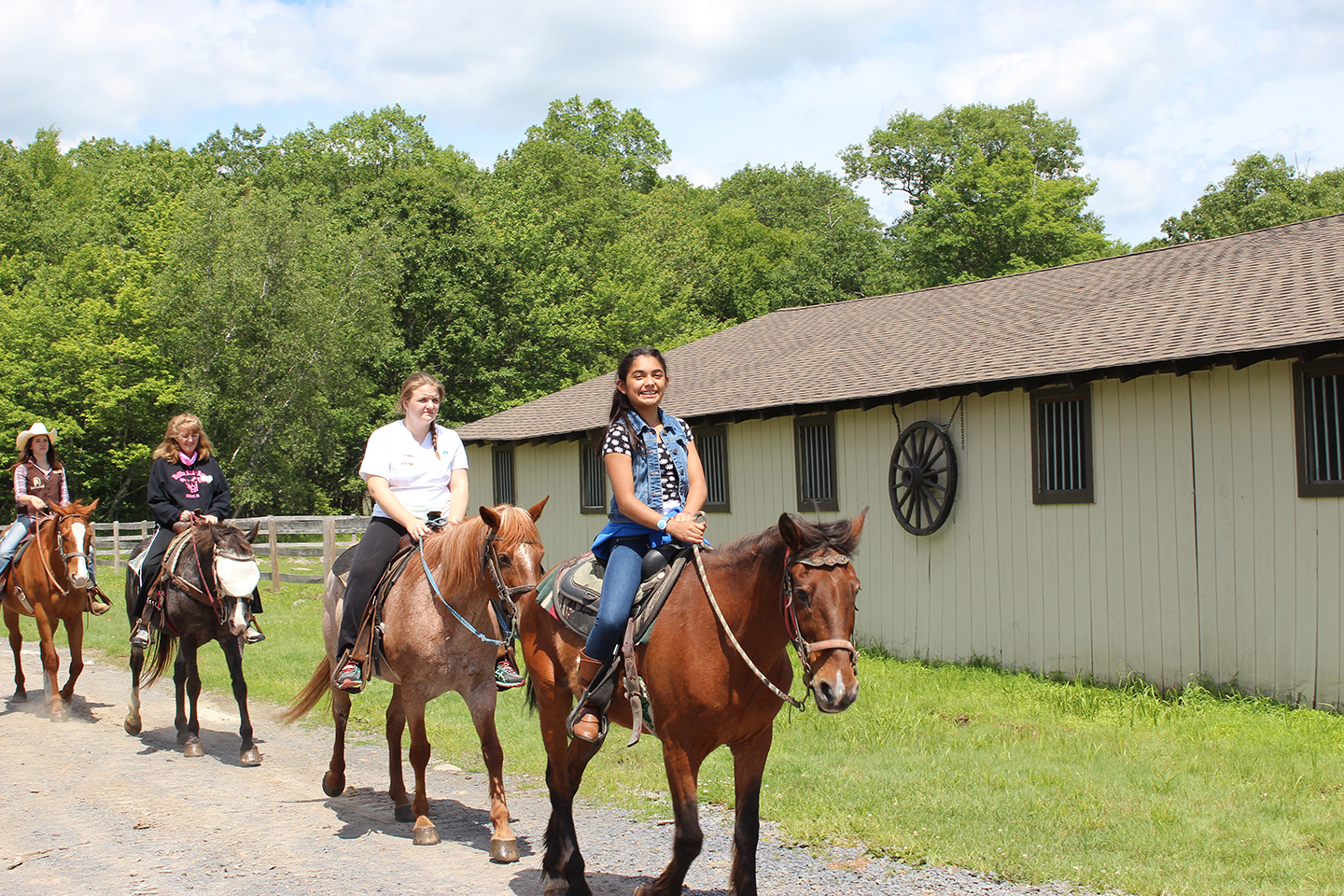 Families ride horses together at the 2015 Healing Hearts Camp
Click here to read Part 1 of this blog post.
For the rest of the day, parents and children were free to take part in the many activities offered at the Malibu Dude Ranch, including horseback riding, archery, basketball, mini golf, fishing, row boats, paddle boats, swimming and crafting memory lockets.
Parent Jenny C. wrote to us a few days later, and shared that "[My daughter] wore the memory necklace she made to school yesterday. The little girl who didn't want anyone to know she didn't have a Daddy 5 years ago wore the necklace with [her dad's] picture in it proudly to school! So crazy how things change. But I know it is because of the camp and the people she meets there that lets her know that she is not alone in her loss."
As evening set in, the families gathered together once again for a memorial service. The families lit candles, heard the names of their loved ones aloud, and blew out their candles together. The younger children performed their star dance, and the teens sang the song they composed with Meaghan and Andy. The night then took on a more joyful tone, with a Wild West show performed by the Malibu Dude Ranch staff and Cowboy Larry, hayrides and making s'mores around a bonfire.
As the families prepared to depart on Sunday morning, the focus of the camp shifted towards how to take this space of resilience and belonging into everyday life. Adults and teens attended a resilience panel, featuring talks by CancerCare clients who experienced the loss of a parent, a spouse or a child, and found ways to cope over time. One speaker, a 22-year-old woman whose father died when she was just ten, shared that she is now going to social work school.
Each family created a star decorated with drawings and words, which were arranged on the lawn to create The Big Dipper constellation
Meanwhile, the younger children participated in CancerCare's Comfort Pillow Activity. These free kits are intended to help start conversations with children about a cancer diagnosis. The Healing Hearts kids used the kit to create "memory pillows" to help them hold onto their loved ones.
Finally, the families gathered by the outline of a star on the lawn, where they were presented with certificates stating that a star in the sky had been named after their loved one. These thoughtful gifts were made possible by donations from other families at CancerCare's 27th Annual Festival of Hope Gala. For the rest of the day, the families were free to enjoy the activities at the camp.
Like all of CancerCare's services, the Healing Hearts Family Bereavement Camp is made available to families completely free of charge. That's why we need your help. Please help us continue to provide this unique opportunity to all who would like to attend by making a contribution.
Click here to view photos from the 2015 Healing Hearts Family Bereavement Camp.
New Comment