Honoring Courage and Community at CancerCare's Third Survivorship Celebration
For Alexis, May 31, 2016 is a complicated day. The date marks her 24th birthday, and also the day she was diagnosed with Hodgkin lymphoma.
"Anyone who has been diagnosed with cancer can tell you that the not knowing is the worst part," she says. "During that time of uncertainty, I decided I needed to form my own community."
That's how Alexis found CancerCare, and how a year and a day later and five months after her last chemotherapy session, she found herself speaking at CancerCare's Annual Survivorship Celebration.
This joyous and meaningful event, now in its third year at CancerCare, took place on June 1st at the offices of Grant Thornton. Over 100 CancerCare clients attended, including patients, caregivers and many loved ones. The evening provided an opportunity for those affected by cancer who have used CancerCare's services to meet one another, share their stories and recognize each other's resilience.
The event kicked off with remarks from Susan Smirnoff, a member of CancerCare's Board of Trustees. "My professional, volunteer and personal lives collided when my husband and I learned that our otherwise healthy nine-year-old son had Hodgkin lymphoma," she shared. "Everyone in this room understands the physical and emotional pain our son and our entire family endured. But we were empowered by CancerCare, and coming out of that painful two year treatment, my commitment to the organization became that much more fervent."
Next, CancerCare's Men's Cancers Program Coordinator, Andrew Chesler, LMSW, who coordinated the event, briefly spoke about his work as an oncology social worker. "Of course, it's sometimes painful to talk about what people with cancer have to endure. But my work also intensely meaningful, at times surprisingly joyful, and always an extraordinary privilege," he shared.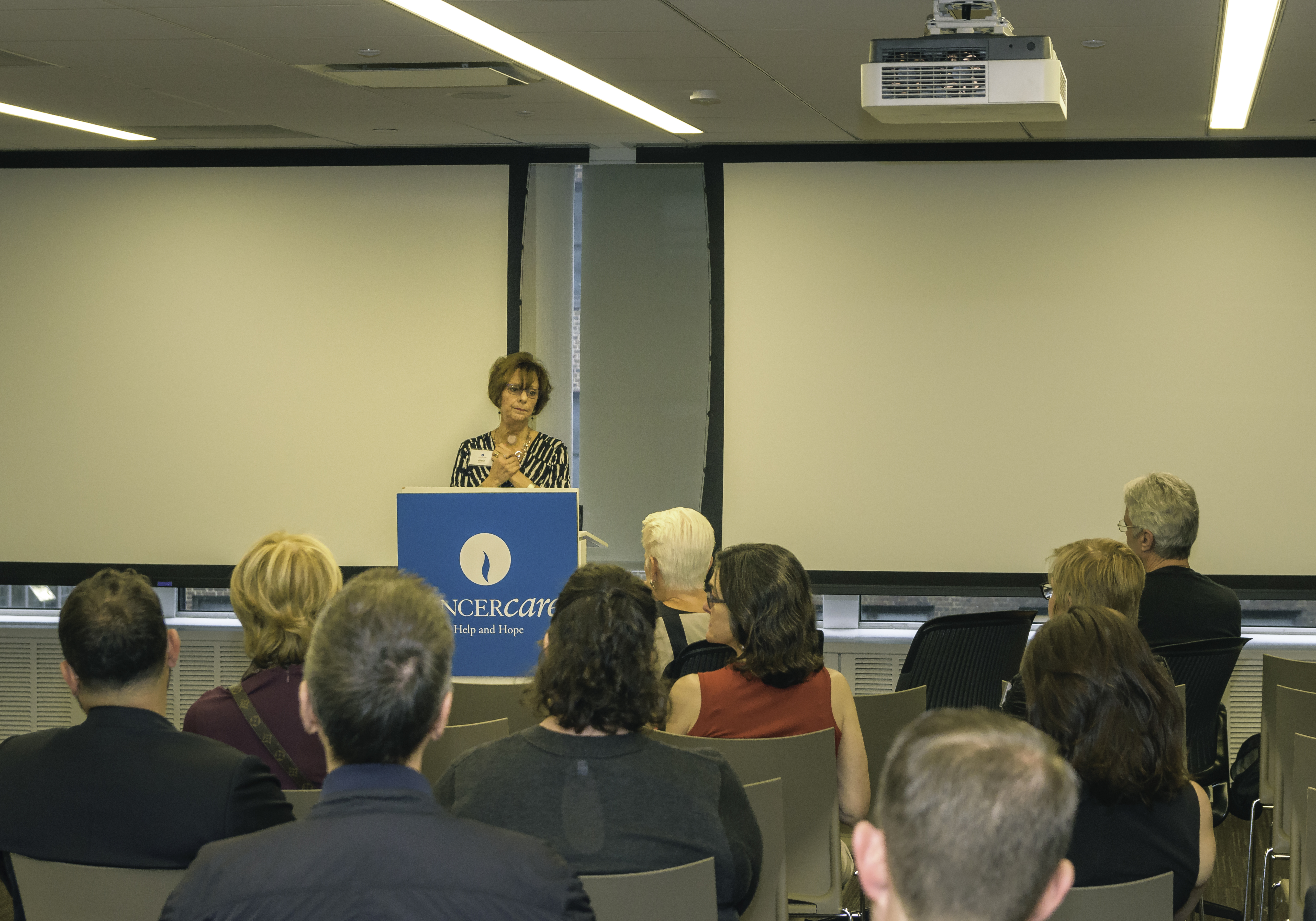 The highlight of the celebration was a series of presentations from patients and caregivers. In addition to Alexis's presentation, guests heard from Maya, a breast cancer survivor, and Diane, a survivor of salivary gland cancer. "I didn't want to lose any second of my life," Maya recalls. "Every single second, minute, hour started to be precious. Not only in fighting for my life, but also in trying to figure out how to live life as well as I could."
All three presenters shared reflections on how their lives had changed during and after a cancer diagnosis, and advice for others coping with cancer or transitioning to survivorship.
Alexis shared: "[I learned] it's okay for me to let the fear in sometimes but I should never stop living exuberantly because of it. Although the questions we all ask ourselves about our lives might be different the uncertainty is the same, and we are all linked in that. If you are unhappy with what you're doing, if the life you are living doesn't directly lead to the life you want, then I urge you not to simply follow suit because it is too hard to break away – because no one really has the time to wait for life to get good."
New Comment