For Mildre Gonzalez, "The Secret to Happiness is Helping Others"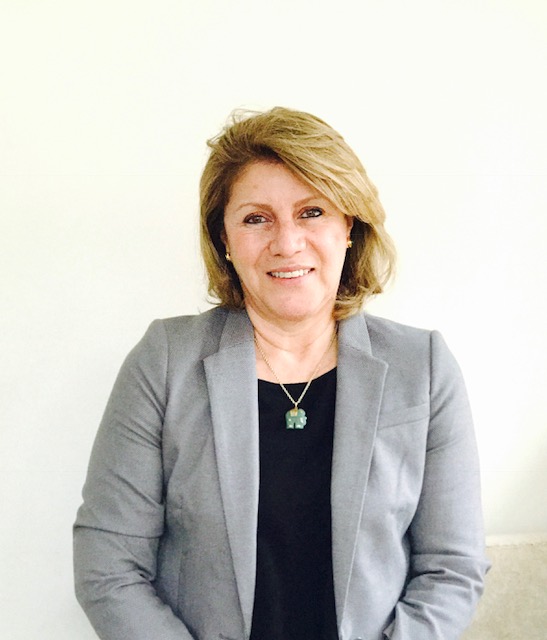 For the past three years, Mildre Gonzalez, of Norwalk, Conn., has played a vital role in educating the Latino community in Connecticut about cancer. As CancerCare's Latino Outreach Worker, Mildre travels throughout the state to host workshops, provide wigs to people undergoing cancer treatment, and spread the word about CancerCare's free services.
Mildre was inspired to become a cancer advocate after moving to the United States from Ecuador. She had previously volunteered at a cancer hospital, and wanted to use her skills to help people in her new community.
Her drive to give back also comes from her own life experience. "As a breast cancer survivor, I know the needs of people who have cancer," she says. "I want the women I reach to be informed about where they can go for assistance. I encourage them to share the information they learn with their families and friends. If somebody needs help, I want them to know that they can call the CancerCare Hopeline."
According to the American Cancer Society, breast cancer is the most commonly diagnosed cancer among Hispanic women. Hispanic women are also more likely to be diagnosed with breast cancer at a later stage, when it is more difficult to treat. This is likely because they are less likely to get regular mammograms or perform regular breast self-exams.
The work that Mildre does directly addresses these challenges by providing Hispanic women with a trusted and knowledgeable advocate. In her workshops, which are conducted in Spanish or English, Mildre teaches women about the importance of regular screening for breast cancer. She also tells them that it's important to be aware of changes in their bodies, and talks through what they should do if they find a lump or abnormality.
"You don't need to panic, but you do need to go to the doctor," she tells her workshop participants. "You can ask your doctor about your symptoms and what screening tests you need."
She also gives attendees personalized advice, drawing upon her familiarity with local resources. "After the workshops, people might call me and say, 'I've been here for more than 10 years. I don't have insurance. I don't have a primary care doctor. What do I do?' So I provide information about free clinics in the area, and where they can go to get assistance."
Mildre hosts wig clinics once a month at Ann's Place in Danbury, and is hoping to expand this program to cancer centers in towns with larger Hispanic populations, such as Bridgeport, Waterbury and New Haven. In addition, she recently collaborated with Bennett Cancer Center in Stamford and Smilow Breast Cancer Center on a panel discussion about breast health, and hopes to expand this event to others towns and host a panel each year.
Her work also helps let others know about CancerCare's emotional support services and resource referrals. "I'm not a social worker, but I hear that when people talk with CancerCare's social workers, they feel like they can find the help that they need."
In speaking with Mildre, it's clear that she views her outreach programs as a labor of love. She shares: "I feel blessed working at CancerCare because through this program I can reach hundreds of women and teach them why the early detection of breast cancer is so important. I think the secret to happiness is helping others."
Learn more about CancerCare's community programs and Spanish resources.
New Comment