Why Beth Supports CancerCare's Walk/Run for Hope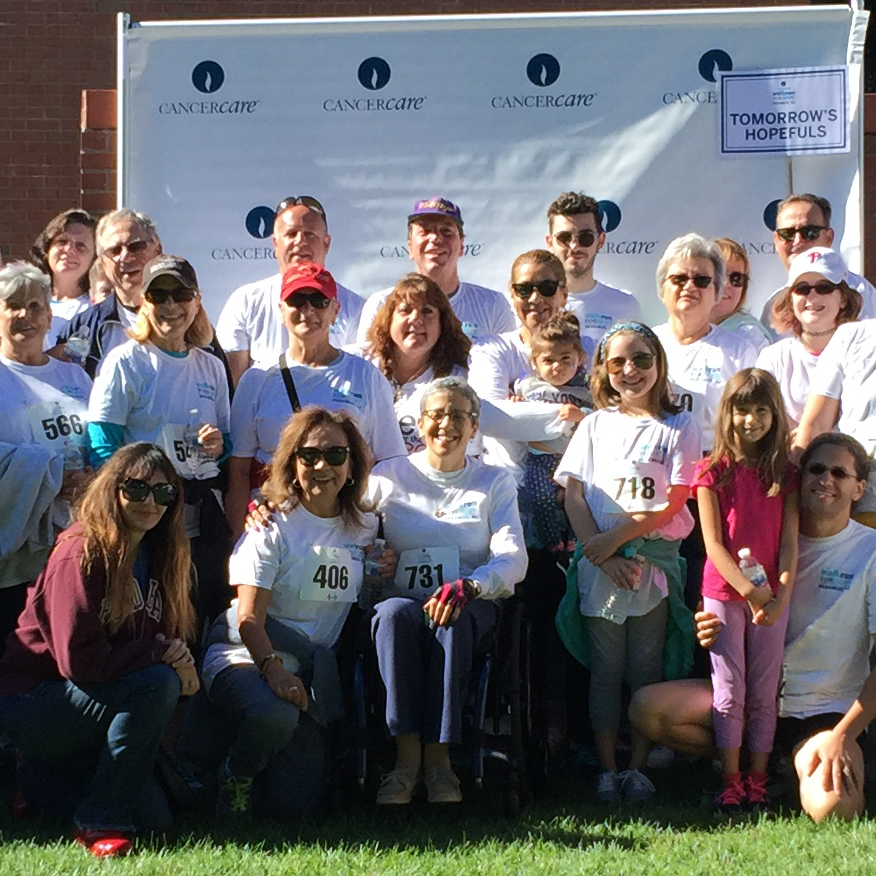 Beth (bottom center) with Team Tomorrow's Hopefuls at the 2016 Paramus Walk/Run for Hope
"If you'd asked any one of us, even a year ago, if we thought we'd be laughing together, we would've looked at you like you had a screw loose," shares Beth of Mahwah, N.J., speaking of her fellow Cancer
Care
support group members who come together to collectively cope with the effects of cancer on their lives. "But we're able to laugh together and plan events, to go out and enjoy each other's company. It is through the generosity of Cancer
Care
, by giving us this support group, that we've been able to come as far as we have."
For Beth, the community she found through her support group was an integral part of her healing process. Beth's husband was diagnosed with non-Hodgkin lymphoma in 2006. "We were told by half-a-dozen oncologists that it was treatable, not curable, that we should watch-and-wait, that it was 'garden variety lymphoma, " she says. "You'll come back in 8 to 10 years, you'll have chemo, that will reset the clock, you'll go through this process three or four times, and you'll finally have a stem cell transplant – but don't worry, you have a heart condition, so your heart will get you long before the cancer does."
A year after her husband's diagnosis, he started chemotherapy. Despite rigorous treatments and two stem cell transplants, the cancer came back five times. In April 2015, he passed away.
"I went to every single appointment he ever had," Beth recalls. "I was with him through every moment of both stem cell transplants. I never left him. Even when he had his final bout in the hospital, I didn't leave." She was her husband's primary caregiver.
"It's a tough road," she says. "I would advise someone going through it to get some counseling while your loved one is going through treatment. It's available, so go for it, because it certainly would've helped me. There shouldn't be a stigma around it."
Beth joined a CancerCare support group in fall 2015, which allowed her to meet others in her community who were coping with the loss of a loved one to cancer. "It gave me a forum to speak with other people and know that I wasn't going through this alone," she says. "Claire Grainger, the social worker who moderates the group, is phenomenal. She's been truly amazing, and a godsend to us."
The group has formed a strong bond, and its members now regularly meet up outside of their sessions. "We're all very conscious of the fact that we met because of a horrific circumstance. We never lose sight of that. CancerCare has, however, brought us together because of our respective losses."
Now, Beth is giving back by participating in CancerCare's 30th Annual Paramus Walk/Run for Hope. She's motivated by the positive experience she had in her support group, but also by the CancerCare staff. "The people at CancerCare are, to a person, kind, very considerate, and very compassionate. It's really a pleasure to be involved with CancerCare because of that. You all make it so easy. You make it something that we want to give back to so that we, in our turn, have the opportunity to help others.
"We are so grateful for having found Claire and having found each other. The whole package together has helped us immeasurably. You can't put a dollar figure on that. I know for me personally, if I'm able to help pay that forward, then I'm certainly willing to do that.
"It can be a very cold, lonely, feeling when you're out there by yourself. By the grace of God, CancerCare took us in and found a place for everyone. That's one hell of a blessing."
New Comment