Marjorie's Experience With CancerCare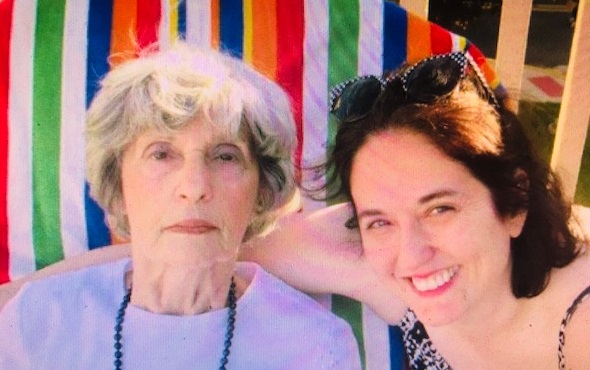 Last year, Marjorie's whole world fell apart when her mother was diagnosed with pancreatic cancer. Shortly after that, her sister-in-law was also unexpectedly diagnosed with stage IV lung cancer. After losing both relatives, Marjorie sought out grief counseling, which is where she first heard of CancerCare. She called the Hopeline, and was connected with Kathy Nugent, LCSW, an oncology social worker in CancerCare's New Jersey office. Through her individual counseling, Marjorie was able to process the grief she was feeling, as well as talk through the mental and physical toll of caregiving.
Before becoming the primary caregiver for her mother, Marjorie worked as a copywriter and in the publishing industry. However, once her mother was diagnosed, she quit her job to take care of her mother full-time. Marjorie even completed the necessary home health aide trainings to be able to fully take care of her with a paid full-time aid, as advised by hospice.
Despite her mother being told she had only four months to live, Marjorie remains grateful that she was able to spend so much time with her mother before her passing. Marjorie said, "There was no way I would have her in a rehabilitative facility with strangers. She belonged at home, in familiar surroundings. I wanted to be the one at her side. Day and night. 24/7. We bonded. Just having her accessible, even when she couldn't communicate, was a gift. I was able to talk to her, hug her and hold her hand. It meant everything to me. I'd do it again in a heartbeat! I miss her so much and I will forever cherish those memories!"
Marjorie says that Kathy, her oncology social worker, was there every step of the way in the bereavement process and is constantly a cheerleader for her. During the holidays, Marjorie was definitive about not celebrating. "The last thing I wanted to do was be in a happy environment. I couldn't just shift into a festive mood." But with Kathy's coaxing, "I decided to attend the New Jersey CancerCare Holiday Party. She even convinced me to bring my young nephews. The party ended up being a nice change of pace after an excruciating year."
At this point, Marjorie is taking one day at a time, but it helps to know that Kathy is available should something come up outside their weekly sessions. For anyone going through a similar situation, Marjorie has this advice: "Let others help you so you can be there for your loved ones. Follow up with doctor visits. And of course, spend as much quality time with family and friends. Don't take it for granted that they'll always be around."
New Comment